During my wedding 'off' season I have had the wonderful privilege of photographing the newest, most precious, little bundles of joy. I discovered how much I love photographing newborns. I always thought it would be a high stress situation but, really, it's more relaxing than I ever expected. I enjoy taking my time and making sure that baby is comfy and secure before I take photos. They are newborns for such a sweet, little moment, and I am loving getting to document it.

Very soon, we will be welcoming a new little baby girl and I'm looking forward to taking a billion photos of her because I know how quickly she will transition out of the newborn stage.
Powered by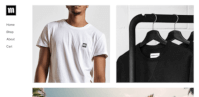 Create your own unique website with customizable templates.